Are you confused or do not know how you can easily Access the Tutor Marked Assignment (TMA) from the NOUN Student portal, www.nouonline.net?
This guide will be providing you with a simple guideline and tutorial on how you can easily achieve this.
National Open University of Nigeria students should be aware that the tutor-marked assignment is part of the academic curriculum in NOUN. The NOUN TMA is built specially to aid students of this tertiary institution, develop regular study habits.
The Tutor Marked Assignment portal also provides students with a platform where they can easily learn and practice how to answer questions. TMA is essential for every student of this great institution since it gives students a learning ground and gears them to prepare for their final examination especially in 100 and 200 levels while having fun.
But it's not 100% fun, as the Tutor Marked Assignment carries 30% of the total grade of any course.
One thing I have discovered over the years is that new students are likely to find it difficult accessing his/her TMA questions in the student portal, and this is the reason why this page is here, to provide you with have a clear understanding of how this works.
Before we start, you need to login to the NOUN TMA portal. After you've successfully login, just follow the instruction below.
How to Access TMA From NOUN Portal.
Visit the nouonline.net portal.
Login with your Username and Password.
Hover to "Your Courses" and Click on "Your Courses" as displayed below.
You are then required to Click on the "Semester" Tab and select either "First Semester" or "Second Semester", depending on your choice.
After you've made your selection, click on the "Submit" button as shown below.
The next step requires you to click on "PROCEED" as shown in the descriptive image below.
The Next page will display your NOUMIS Student's Information as shown in the image below.
You will see two clickable Tabs under the Programme you're studying.
Click on "EXAMS".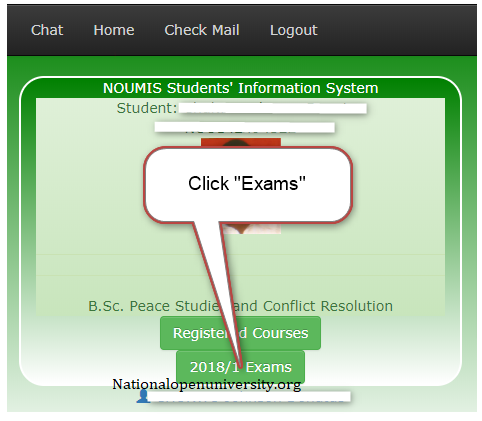 The next page will show you, the Course/Programme you're taking, and below it, the Serial Number (S/N), Course Code, Title, Units, Point and Action headers.
All you need to do, is under the "Action" Tab, to click on "Take TMA", and you will proceed to the question's page where you will be answering different questions.
Finally, it is important that all students of this great institution know that the school management strongly recommends and adviced that students should complete their TMA themselves, it's for your own good and makes you stronger, wiser academically.
Lastly, it's not advisable to Print out the questions for reading purposes, please detest from it.