NOUN e-CourseWare 2020: The National Open University of Nigeria, NOUN e-Courseware materials are available here and they are 100% FREE for everyone.
Using this medium, the Nou.org.ng portal welcomes you, to the National Open University of Nigeria's e-Courseware portal. You should checkout the national open university portal.
IMPORTANT NOTES AND WARNING:
The National open university, NOUN forbids the general public, and students of the institution from using the NOUN e-Courseware for; Commercial purposes, financial purposes, etc. This e-courseware is strictly for educational purposes.
The e-Courseware is a place where students can get available digital course material of the National Open University that will help you in your course of studies.
NOUN e-CourseWare Rules/Regulation.
Before downloading any of the ecourseware and read the course materials, your device needs to have an Adobe Acrobat reader installed. (The good news is that most devices, smartphones, and computers come with an already pre-installed adobe reader). However, if your device does not have Adobe Acrobat reader installed, you can download it by clicking here.
You can filter for the course material you want by choosing your specific Faculty, Semester and Level.
To view, read or download any of the course materials, simply click on the title for that material under the "Download Course Material" field.
Students with questions or inquiries about the NOUN e-Courseware library should endeavor to get in contact with the Head web unit by emailing oamadasun@noun.edu.ng,(Note: Only emails about the NOUN e-Courseware issues are allowed here and will be replied to. Emails on general Enquiries will be disregarded,Thank you). The subject title of the email should be "e-Courseware".
How to Use NOUN CourseWare.
There are literally speaking, more than 300 available courseware in PDF formats. So this guide willhelp you in choosing your faculty, level and semester.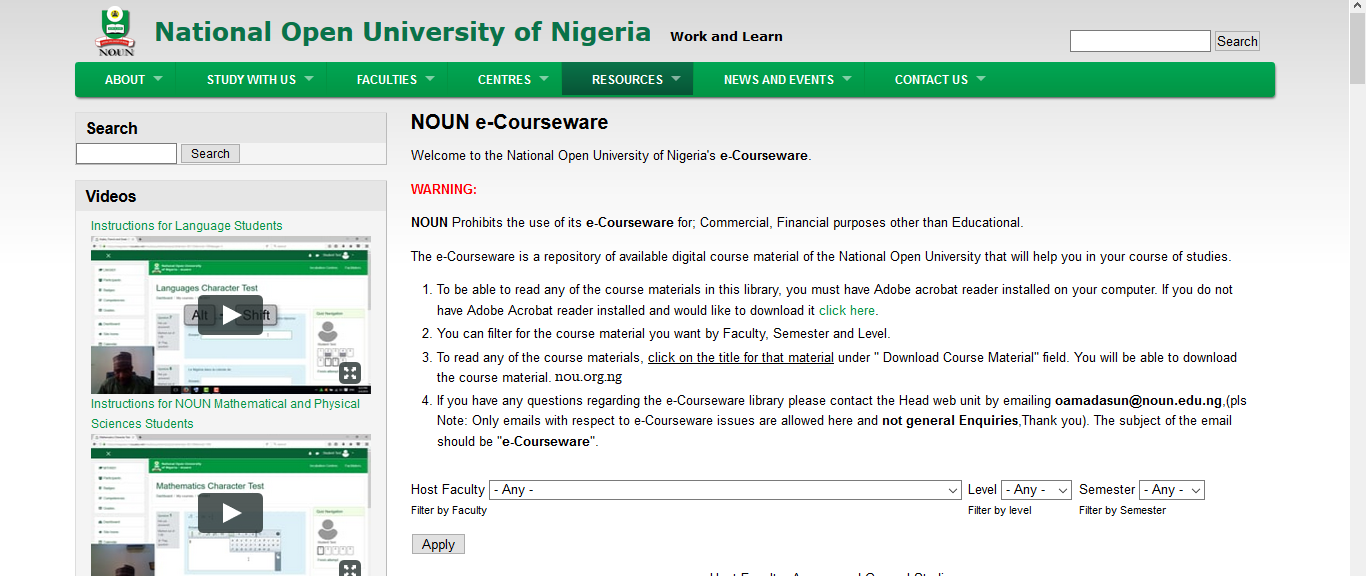 STEP 1: Visit the official e-courseware site at https://nou.edu.ng/courseware.
STEP 2: On this site, scroll down, proceed and choose the rightful ecourseware for you to read.
STEP 3: In the "Host Faculty", Select your faculty. You'll see available options like Access and general studies, Art, Education, Health Science, Law, among others.
STEP 4: Next, you need to select your Level, click on the Box and select the level you're in.
STEP 5: You need to select your Semester, you are given an option of 1 – 4. Select the appropriate semester.
STEP 6: Finally, click on the "Apply" button and you'll be shown the following:
Course Code
Course Title
Credit Unit
Level
Semester
Host Faculty
Download Course Material.
Final Note.
If you have any questions, inquiries about the NOUN course materials, don't hesitate to use the comment box and share the question or problem you're facing, we'll aid you in resolving it.